Pasture Mix Taste Test
Regular price

Sale price

£0.00 GBP

Unit price

per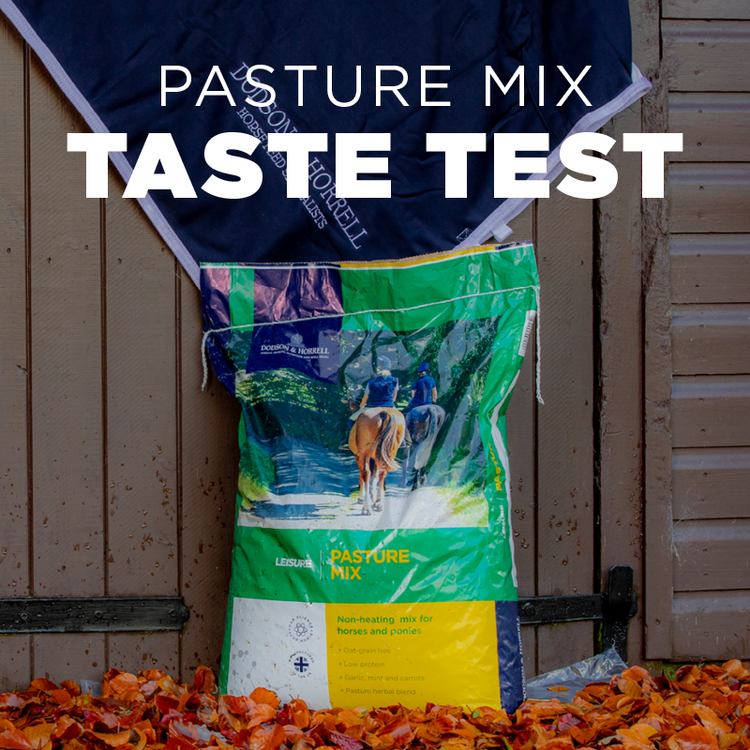 How will it work?
We're launching the Dodson and Horrell Taste Test and we're looking for some budding participants to take part! Our trademark product Pasture Mix has been in the shops for YEARS but with so many fussy feeders out there we want your verdict!
Entries are open and close Friday 1st September! Please fill in the below form to enter, make sure you check your spam to verify your account for your submission to be successful.
Our Team will look through all of the applications and chose the successful applicants who will be emailed by our team on Friday 8th September
Shortly after, successful applicants will receive an extra special package including a sample of our Pasture Mix! 
Once you've received your package, we'll be looking out for the vidoes or images of your horse/pony giving us a yay or neigh...! Tag us in and use the hashtag #myhorselovespasturemix
Find Out More About Pasture Mix
Pasture Mix is a perfect year round feed choice. Sensible levels of the three types of energy – protein, oils, and carbs, give it a reputation for being non-heating. Fortification with the vitamins and minerals your horse or pony need each day to achieve a balanced diet alongside their forage provide assurance that one bag is really all you need, and an appetising blend of Dodson & Horrell's own pasture herbal blend keep equine customers satisfied.
Pasture Mix has been safely fuelling horses and ponies wearing many hats across the four seasons for generations. It is an ideal choice for horses and ponies in light to medium workloads, which generally spans occasional hacks through to more regular schooling and competitions. The feeding rate has a degree of flexibility built in to ensure that it's possible to lower the amount provided to reflect decreases in workload, or alternatively, when body condition and/or bodyweight has crept too far upwards.
Inside the bag, Pasture Mix is...
Oat-grain free - Oat grains contain the vast majority of energy and starch within the oat plant, whereas other oat plant products such as oatfeed, oat husk, or oat straw contain a much greater proportion of fibre and less of the calories and starch! We utilise the high fibre parts of the plant and not the grains to support cool headedness.
Low Protein - Horses obtain most of the protein they need each day from the forage that they eat. Protein is also one of the three main energy sources, with the others stemming from oils and carbohydrates. The levels contained in Pasture Mix are well suited to the vast majority horses and ponies in light and medium workloads, who are hacking, schooling, and competing as part of that schedule. Pasture Mix can also be a good option for horses or ponies who specifically need a low protein diet, at the recommendation of their vet. 
Garlic, mint, and carrots - Three of the most supplemented items in an equine's diet, built straight in for added flavour!
Pasture Herbal Blend - The legendary herbal blend that gives Pasture Mix its reputation of palatability to tempt even the fussiest of feeders and our feedrooms the aroma of a delicious equine spice cupboard.
View The Product